Karen Savoca's seventh solo release, Promise, was recorded in her 19th century church/studio nestled deep in the hills of upstate NY and is being lauded as her strongest collection of songs to date.

"Cleverly written and embracingly beautiful songs that have a beguiling way of changing and reconfiguring themselves like an aural kaleidoscope." -Duluth News Tribune

"Sparkling arrangements... joyous abandon" -Dirty Linen

"It's soul power... a quality so rare. Very highly recommended"- Pure Music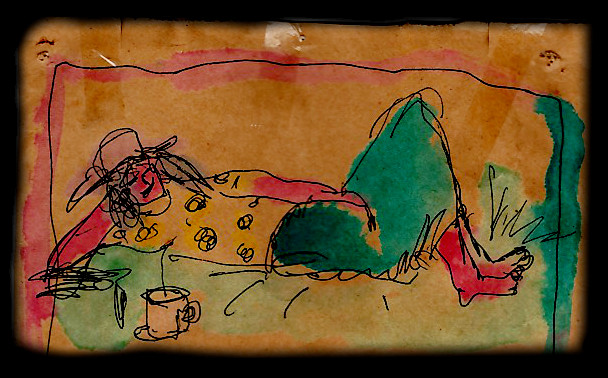 Born in Bergen County, New Jersey, Karen Savoca's baby diary reads "20 months, knows 6 songs." At the age of five, Karen was the emcee of her kindergarten play. Karen's mom had been a big-band singer and the featured vocalist on a nightly TV show in Fresno, so it was no surprise that her little girl was always dancing and singing. At the age of ten, Karen bought her first album... it was Life, by Sly and The Family Stone.
Although she'd always wanted to play the drums, she was given piano lessons instead. At thirteen Karen's family built a log home on a mountain top in upstate New York. Her new friends were astonished at her ability to learn the lyrics to any song in just one listening. At fifteen, she bought herself a guitar with saved birthday money, and when no one was around she would write songs. Living on a mountain offered plenty of solitude for a little poet, and she wrote privately for many years. During High School she was a frequent soloist in the choir, and earned leading roles in both dramatic and musical plays. Her expressive alto was soon sought out by regional musicians, where she was finally free to choose her repertoire.
Knowing that she wanted to pursue a musical career, she attended Syracuse University's Crouse College of Music. She enjoyed her Classical studies, but to someone who had already found her own true voice, the operatic vocal training was far too restrictive. After two years as a music major she switched to Elementary Ed where she developed passionate views about education. During that time she continued to perform with several groups on campus and throughout the city.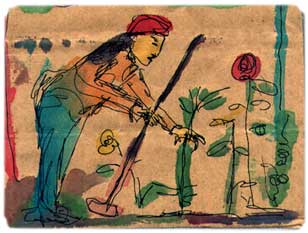 Pete Heitzman, was born in Syracuse, New York and was long known as one the region's premier guitarists. He spent several years touring the US playing in rock and country bands. On a visit home he went to a club to hear a friend play and Karen was the new singer. Their powerful chemistry was evident right from the start. They jammed all night, Pete joined the band the next day and the two have been together ever since.
Karen and Pete soon moved to New York City where they gigged, worked strange temp jobs, wrote songs, and accumulated recording gear. After four years in the city they returned to central New York where they converted an 1890's church into a recording studio.
With their return came the decision that they would now perform only Karen's songs. This was a bold move in a club scene that was years from being supportive of original music. Karen and Pete formed the Mind's Eye which featured a revolving membership of some of the best musicians in the area.The Mind's Eye played every Monday at a club just off the Syracuse University campus. Karen played a Hohner Clavinet, hand percussion, and finally got herself a conga drum. Their fans danced and improvised in a call and response style, often developing elaborate contrapuntal routines.
Walkin' The Bridge appeared in 1988, and charmed T-Bone Wolk into collaborating for On The River Road in 1993. The song, "Language Of Love" was chosen out of 3,500 entries to win the Grand Prize in MUSICIAN Magazine's Best Unsigned Band Contest in 1995.
The duo split off from the band to develop their unique, spare sound, but somehow retained the pulse of their dance band. By now Savoca's vision as a composer was in full bloom, and after many years of pleading, Heitzman finally convinced her that they should perform under her name. In 1997 they signed with a major talent agency and began their travels. 1998's Sunday In Nandua was an artistic milestone, and was added to many radio playlists across the country and abroad.
Karen's appearance on the contemporary folk scene says more about the broad-minded audience of folk than it does about her music. The duo's live performances are uplifting and hypnotic, they put some funk in the folk. At the Vancouver Folk Festival '99, as the Sunday sun was setting, for the first time in 22 years, 10 thousand people inexplicably removed their shoes and waved them over their heads.
Playing conga and hand percussion, Karen infuses the music with her love of Soul, R&B, and World rhythms. Together she and innovative guitarist Pete Heitzman have been described as a self-contained mini-band with "the fearlessness of a high-wire act working without a net." It's an elusive mix... melodic, funky and spontaneous.
2003's LIVE AT THE BLACK SHEEP (Alcove), is an unrehearsed and riveting collection of original and traditional songs by the triple-bill of Greg Brown, Garnet Rogers, and Savoca Duo. This is the first time they'd performed together. This exciting and challenging round-robin style song swap reveals not only the well-known strengths of each featured singer, but also the intuitive and supportive talents of these musicians as accompanists.
In 2002, the duo appeared on three CDs...their own ALL MY EXCUSES (Alcove Records) Displays their spare and distinctive vocal, percussion & guitar style, Excuses also features some backing vocals by Greg Brown and the phenomenal bass work of T-Bone Wolk.
Also that year was MILK OF THE MOON (Red House 2002), by two-time Grammy nominee, Greg Brown. This critically acclaimed CD was co-produced by Greg, Karen & Pete during a nine day session at their 1896 renovated church and home studio in rural upstate New York. Twelve new songs, several of which were written out on the porch just moments before they were recorded.
The third Savoca recording in 2002 appeared on a GOING DRIFTLESS, Women's Tribute to Greg Brown (Red House). The lineup includes Mary Chapin Carpenter, Shawn Colvin, Lucinda Williams, Ani DiFranco, Cheryl Wheeler, Joan Baez, Lucy Kaplansky, Stacey Earle, Victoria Williams, Eliza Gilkyson, Gillian Welch (and more) each singing one of their favorite GB tunes. Karen sang Two Little Feet. Proceeds are benefitting breast cancer research.
In 2003 Savoca's version of Two Little Feet also appears on the Earth Justice Benefit CD WHERE WE LIVE (Higher Octave/EMI) ~ Bob Dylan, Tina Turner, Rubén Blades, Mose Allison, Captain Beefheart, John Hammond (with Tom Waits), Pops Staples (with Ry Cooder), Maria Muldaur (with Bonnie Raitt), Willie Nelson, Sweet Honey In The Rock, Norah Jones, The Neville Brothers, Karen Savoca, Los Lobos, Michael Franti & Spearhead.
Karen's newest release, IN THE DIRT (2006), was captured in a fiery two day session with Heitzman and Wolk.
Karen and Pete have scored several feature-length films for writer/director James Savoca, Including Sleepwalk, and The Crooked Corner.